Michael Morgan
Email: [email protected]
Background Information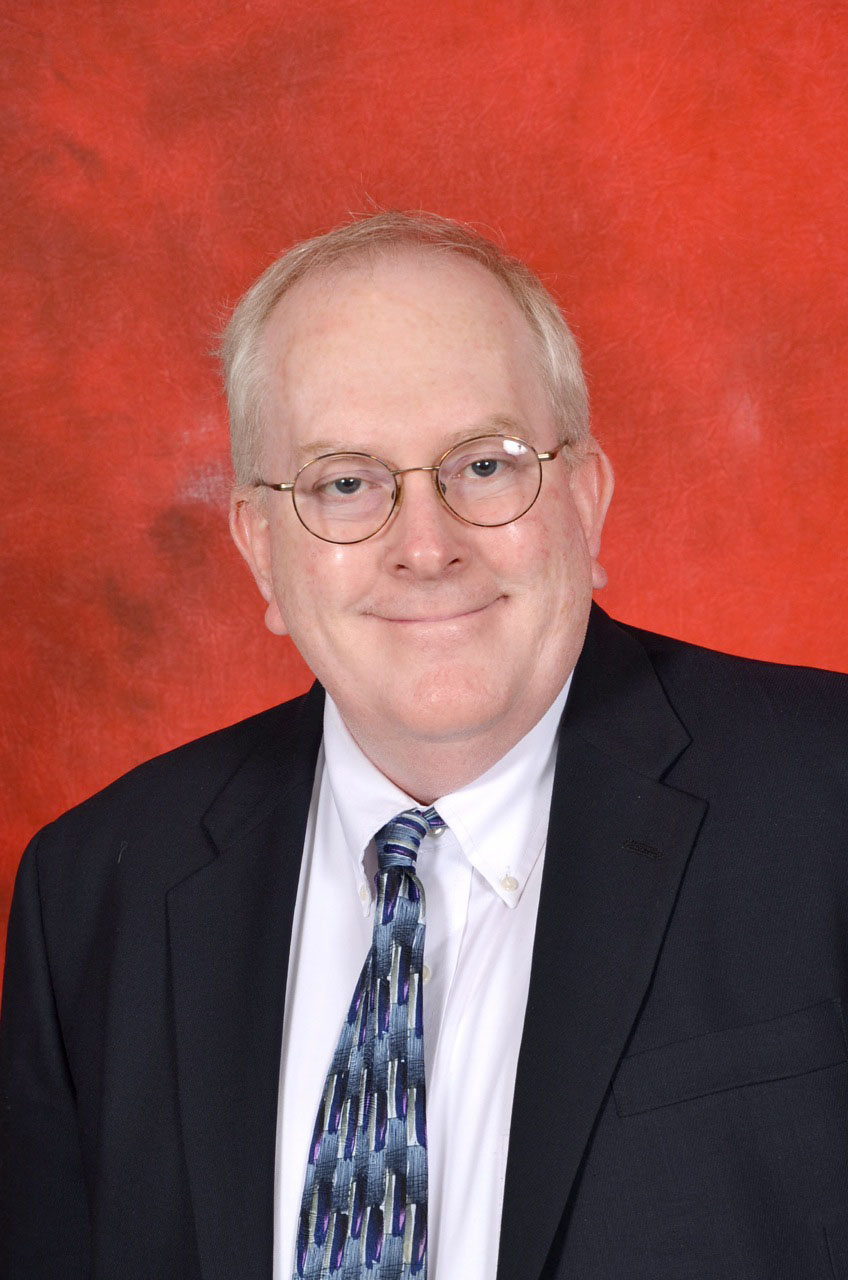 Michael Morgan is currently the Honors and Advanced Placement Chemistry teacher at Francisco Bravo Medical Magnet High School. In addition to working at Bravo he has taught at four other LAUSD high schools. Before coming to LAUSD he taught freshman chemistry at the University of California at Santa Cruz part time while working on his degree under the direction of Professor Frank C. Andrews (along with H. Michael Ellerby). Their research group's area of interest was the Statistical Mechanics of hard dense particle fluids and Theoretical Chemistry especially Thermodynamics. Till this day the areas of chemistry called Physical Chemistry are still his favorites to teach. Since UCSC he has become heavily involved in the field of Chemical Education. He has served twice as a fellow of the Institute for Chemical Education at the University of Wisconsin at Madison working for Professor John W. Moore. His areas of research included the use of video discs and computers in chemical education and lecture demonstrations.
For many years Mr. Morgan wrote a regular column entitled "Ideas From the Coast" for the now defunct journal "Connecting with Chemistry" and coordinated the Science Outreach Program for Bravo. In addition he has served since 1992 as a member of the editorial board for the Journal of Chemical Education: Software. Over the past twenty years he has presented over 100 workshops, conferences, and lecture demonstration shows on topics ranging from "Chemistry in our Everyday Lives" to "Chemical Philately: A Perforated History of Chemistry". For ten years he and his colleagues Larry Quimby and Lanny Larsen provided training to all the new science teachers entering LAUSD through the district's "District Intern Program". In addition they wrote the course of study that the Intern program used for teaching all science interns about Standards Based Instruction.
In 1997 Mr. Morgan was invited to join a group headed by the late Glenn Seaborg to write the California State Science Academic Content Standards. In 1998 both Larry Quimby and Lanny Larsen joined the project and worked together to develop what are considered some of the most comprehensive standards written for science education. These standards have been adopted by the state of California and are now in place statewide.
Since the early 1990's Mr. Morgan has been working with the American Chemical Society in a variety of activities. On the national level he serves on the advisory board for the ACS Chemistry Clubs program and he is also a member of the Division of Chemical Education's "High School Chemistry Committee" helping to shape high school courses nationwide. He currently plans and hosts the local American Chemical Society section's yearly "Update for Chemistry Teachers" meeting held at Occidental College. He serves on the SCALACS Executive Committee and has been elected Chair of the Southern California sections for the year 2016. In 2015 he also became a featured contributing author for the journal ChemEdx.org. Stating in 2022 he bacme a member of the Board of Publication for the Journal of Chemical Education.
Awards & Accomplishments
Since 2003 he has been coaching academic competition teams for Bravo including Science Bowl, Popsicle Stick Bridge Building, Ocean Sciences Bowl, Science Olympiad, Chemistry Olympiad, Biology Olympiad, Math Olympiad, and Physics Olympiad.
This has lead Bravo to many trophies including:
Science Bowl Second Place (2021, 2020, 2019, 2015), Third Place (2011), and Fourth Place (2008)
Bridge Building First Place (2007, 2009, 2011, 2020, 2021, 2022), Second Place (2014, 2015, 2016, 2020, 2021), Third Place (2008, 2010, 2012, 2014,2020, 2022)
Ocean Bowl Second Place (2020)Third Place (2015, 2021) Sportsmanship Award (2012, 2013)
Science Olympiad Second Place (2019), Third Place (2018), Sixth Place (2020, 2016)
Chemistry Olympiad: 21 national semifinalists since 2007 (including two recognized with Honors)
Biology Olympiad: 27 national semifinalists since 2007
Physics Olympiad: 2 national semifinalists (including one student who was named to Team USA).
Math Olympiad: 12 national semifinalists and two finalists.
Astronomy Olympiad 3 national semifinalists, two national finalist
In fact 2013 was a banner year for Olympiads at Bravo.
Teaching Awards:
2021 LAUSD Teacher of the Year
2020 ACS James Bryant Conant Award for High School Chemistry Teaching, the highest honor given to a high school chemistry teacher in the United States.
2020 Named a Fellow of the American Chemical Society.
In 2020 he received the LAUSD Sal Castro Award.
In 2019 he received the Agnes Anne Green Award for services to the American Chemical Society.
In 2014 he was named a Los Angeles County Teacher of the Year.
In 2014 he was named a United Way Los Angeles Teacher to Watch.
In 2013 the American Chemical Society named him Chemistry Educator of the Year for the Western United States.
In 2013 and 2014 he was named an LAUSD Teacher of the Year.
In 2010 he received the Southern California American Chemical Society Outstanding High School Chemistry Teacher Award.
In 2010 he received an MIT Inspirational Teacher Award.
In 2009 he was recognized by the LAUSD School Board for his coaching of Bridge Building.
In 2009 he was a Cherry Blossom Festival "Teachers Making a Difference" award winner.
In 2004 Mr. Morgan was named a Los Angeles Dodger's Hero of the Hispanic Community for his work with the students and teachers of LAUSD.
In 1996 Mr. Morgan was the inaugural winner of the USC-GLATSA (Greater Los Angeles Teachers of Science Association) Science Teaching Achievement Award for his work in Chemical Education.
Photos & Interests
With Many Mota of the Los Angeles Dodgers.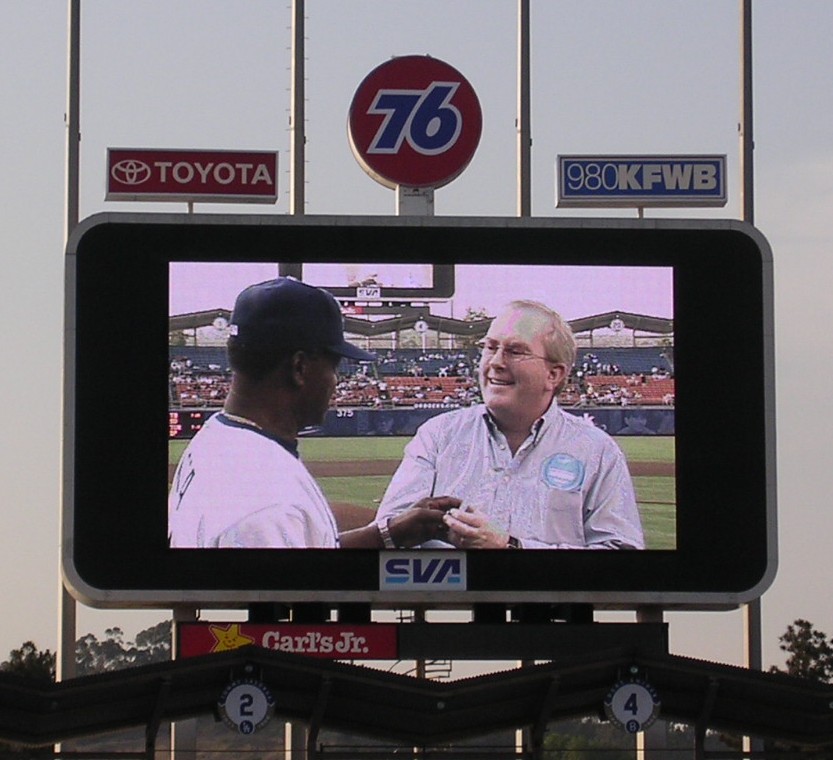 With Richard Zare of Stanford University getting the 2013 ACS Western Regional Award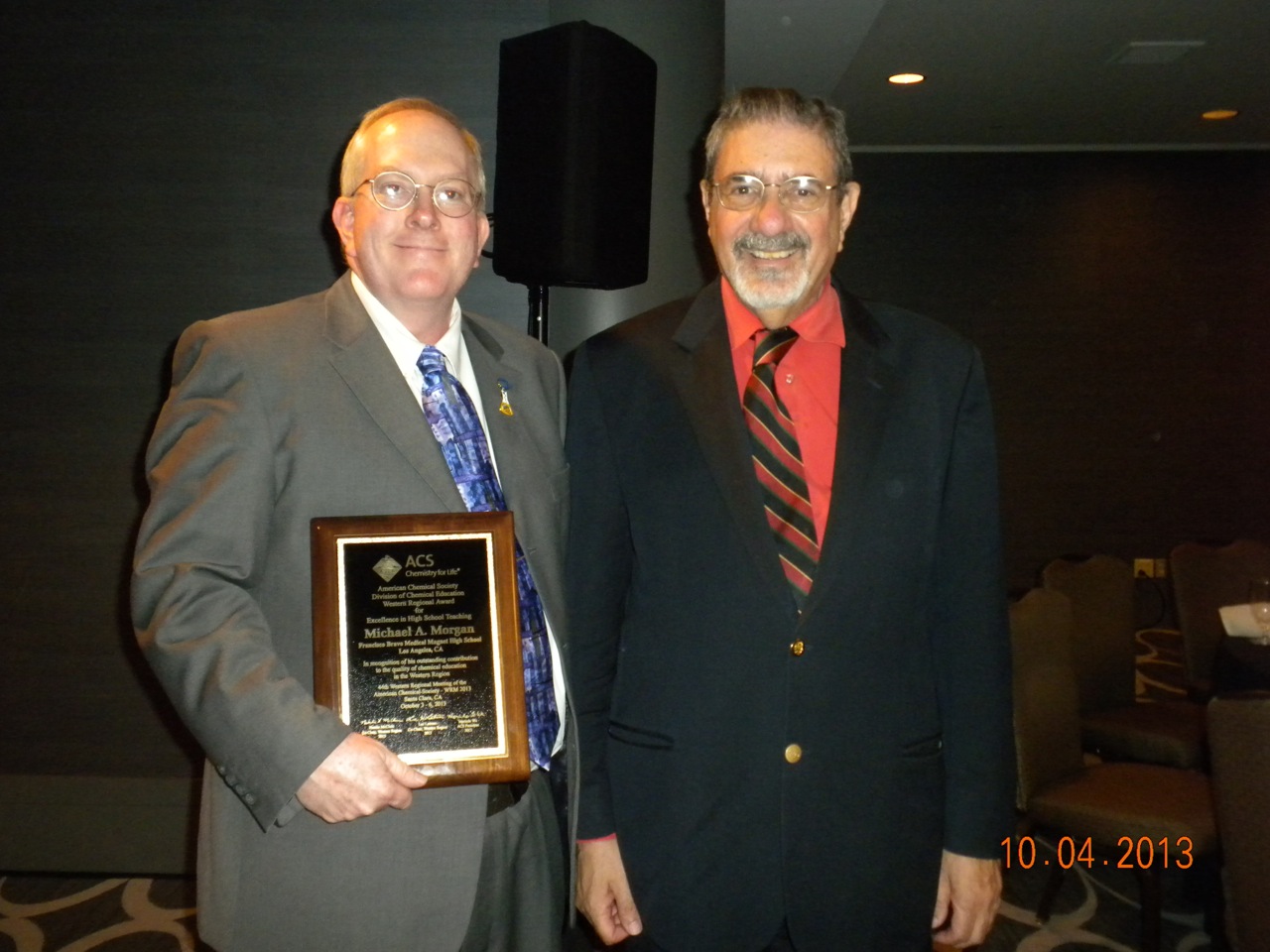 Photographed for the 2014 United Way Teachers Making a Difference Award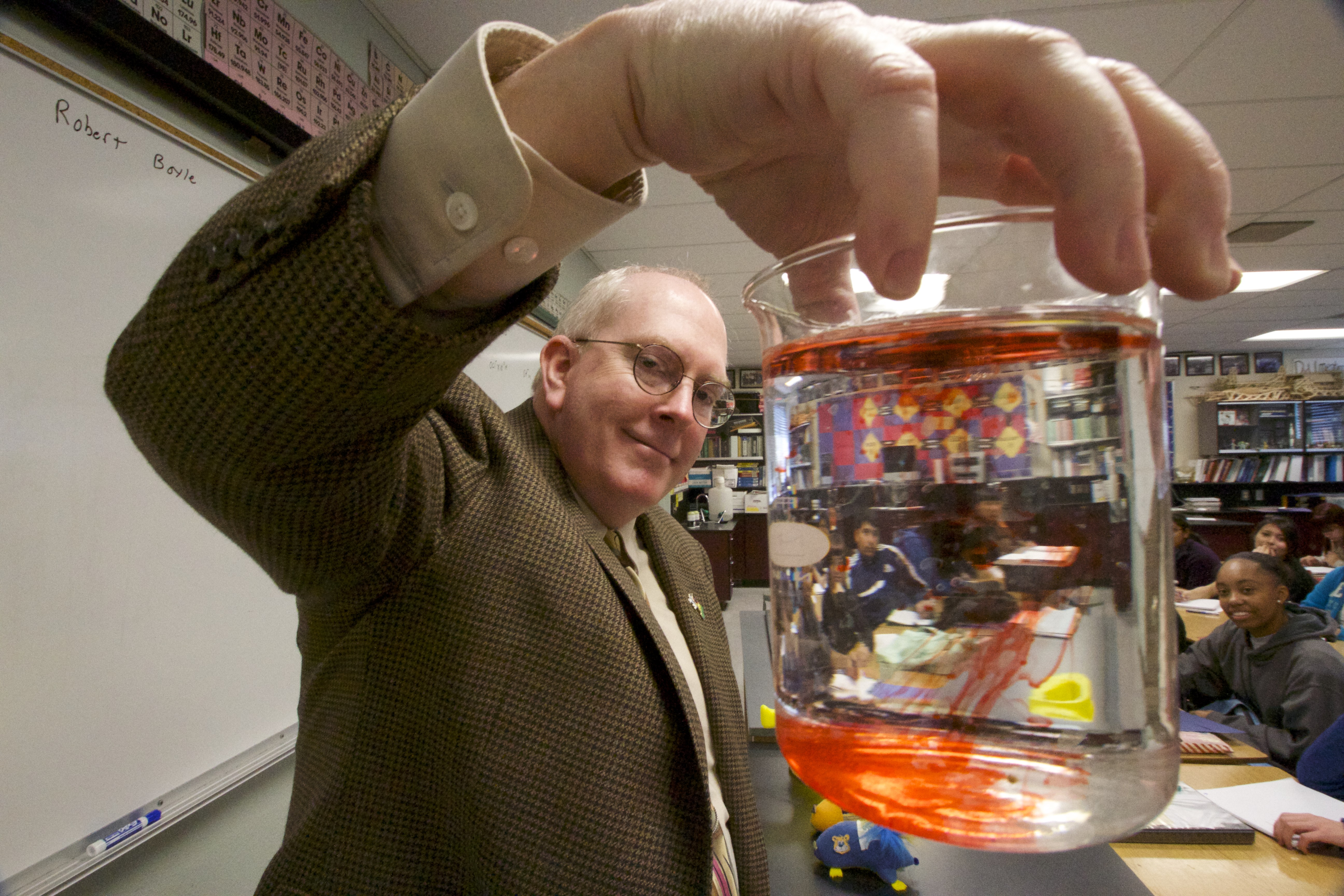 Outside of School Mr. Morgan is an avid Collector of postage stamps dealing with science and is President of the Chemistry and Physics on Stamps Study Unit of the American Topical Association, loves cooking, bicycle riding, and listening to progressive rock music including Genesis, King Crimson, Rush, Jethro Tull, and The Moody Blues. He and his wife live in Redondo Beach California.
If you would like to learn more about Mr. Morgan's interests please visit the following world wide web sites.
The Chemical Education Exchange:
ACS Chem Clubs
http://www.acs.org/content/acs/en/education/students/highschool/chemistryclubs.html
The American Chemical Society:
The Chemistry and Physics on Stamps Study unit.